Track Your Progress with Cutting Edge Technology at RFT Wellness!


Effort looks different for everyone. With MyZone fitness tools, you are rewarded for the effort you and your heart are putting into each and every workout! You are competing against yourself to hit your individual heart rate zones and improve on your last workout. The harder you work, the more Myzone Effort Points, or MEPs, you will earn.
Now let the games begin! You can compete against those around you to see who can earn the most MEPs.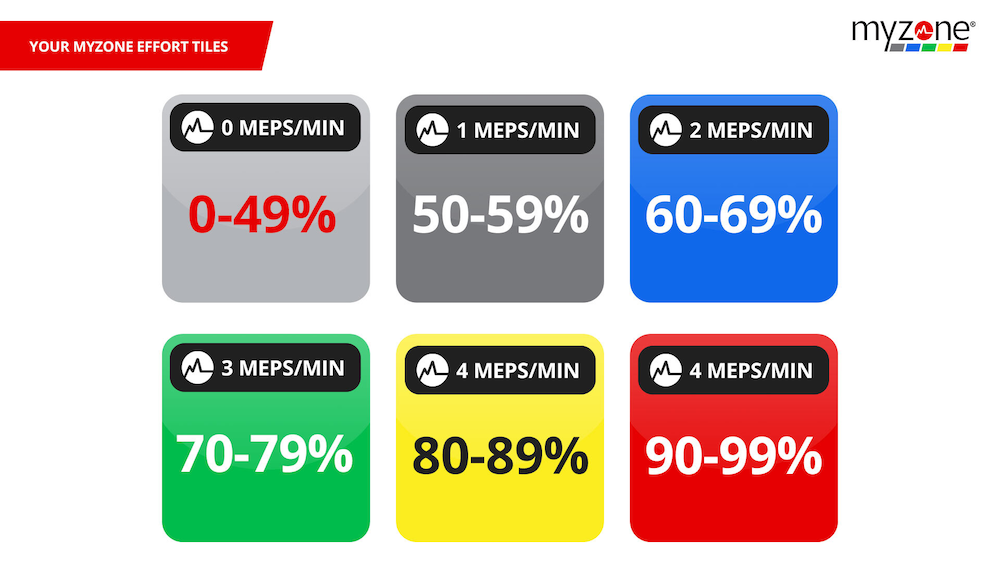 Since each of the 5 heart rate zones is based on a percentage of your personal maximum heart rate, your zones might look different than the person next to you. Additionally, as you train, your maximum heart rate may change, and Myzone automatically adjusts, guaranteeing that your zones stay unique to you. Myzone heart rate monitors are 99.4% accurate, the same as an ECG trusted by health professionals, so you know you're getting data you can trust.
The yellow and red zones are where heart rate training lives! During a high intensity, cardio focused workout, you will find yourself in these zones, burning more calories and earning more Myzone Effort Points. However, the goal isn't to hit the red zone every time. Controlling your heart rate between the different zones is more beneficial to your fitness goals than trying to always max out every exercise. The grey, blue and green zones are not only perfect for low-intensity workouts, strength exercises, warm ups and cold downs, but they also help you track how well your heart rate recovers after being in the higher yellow and red zones during more strenuous workouts.

Your fitness journey should include more than just numbers on a scale. In order to get a full picture of your progress, you should be measuring your body composition.
Body composition gives an in-depth look at the unique levels of fat, protein, minerals, and body water, instead of using simpler metrics of BMI and weight alone.
With the InBody, you'll get the full picture, helping you focus on fat loss, not just weight loss. You'll also know your skeletal muscle mass, which is crucial if your goal is muscle growth or if you just want to correct a muscle imbalance. And much more!
There's no pinching, dunking, or scanning and your results don't take hours.
Experience a non-invasive body scan that takes less than a minute! A low level electrical current is sent through the body through electrodes under your feet. This current is affected by the amount of water in the body, which gives an accurate health picture. InBody provides multiple data points, including:
Muscle-Fat Analysis: Identifies the difference between weight, skeletal muscle mass, and body fat mass.
Segmental Lean Analysis: Compares and contrasts muscle development in segments and helps our trainers create a plan to balance your lean body mass.
Segmental Fat Analysis: Shows not only how fat is distributed throughout the body but also helps our trainers know what hormones may be affecting your fat loss journey. And much more!
Our dedicated staff is ready to help you use every tool we have to kick your fitness into high gear! Connect with us today to learn more about our fitness technology!
TO ACCESS OUR CLIENT PORTAL, CLICK THE BUTTON BELOW TO SIGN IN